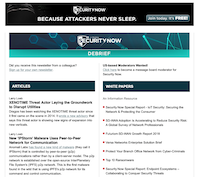 Security Now is for everyone who touches security - and today, that's everyone who touches IT. Security Now takes the complex, often confusing details of threats, vulnerabilities, breaches and crimes and puts them into words and formats that every IT pro can understand.
Security Now Debrief is a weekly newsletter delivered on Mondays providing the most important stories in business cybersecurity.
Sign up for Security Now Debrief and join our diverse network of security professionals, enterprise cloud experts, IT executives and more.